Elbow UK Arena Tour
An innovative, custom made lighting solution with a twist for critically acclaimed Mancunian rockers Elbow, on their recent UK arena tour
The Brief
To design and deliver an engaging and surprising lighting element for the B-Stage that supported the overall raw look and feel whilst capturing the Band's sense of playfulness.
Event Statistics
We dropped close to two hundred spheres on tens of thousands of Elbow fans across eight arena dates. We had a ball!
— Client
Elbow
— Location
Nationwide, UK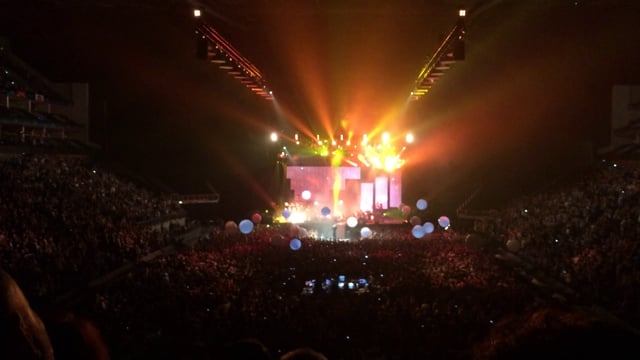 Outcome
24 large-scale, industrial looking light fittings formed from GRP were flown from two lengths of truss – 12 on each – high above the arena floor. Housed within each fitting an i-Pix LED and a kabuki solenoid. Hung from the solenoid like giant light bulbs were 1 m helium filled, matt finished PVC spheres internally lit with motion sensor LED units.  These giant bulbs allowed for the diffusion of a range of lighting states (designed by LD Cate Carter) throughout the concert using the i-Pix before a finale reveal. On cue the spheres were dropped in a Mexican wave sequence, floating down into the audience below to be played with in a bubbling, colourful set closer.
An idiosyncratic and engaging piece, it struck a balance between considered lighting aesthetic and genuinely surprising gag connecting audience and band in a playful final frolic.
We were delighted with the light spheres. We try and offer something surprising and this really delivered. As light units they captured the industrial raw feel we were looking for perfectly. Up close they were quite imposing – giant, distressed shells that looked like they had been ripped from an East Berlin munitions factory! The sphere drop was exactly what we hoped for as an engaging, playful finale and something the fans seemed to really embrace - even if I did take a battering at a couple of venues!